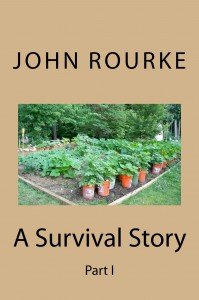 What follows is just one part of an ongoing survival fiction series written by John Rourke and has been published on Amazon. It is being made available here for free. A new entry is published every day. The story is written in a daily journal format.
August 9th   Scouting trip…..
This morning I met with Ryan and explained to him my thinking on helping Walnut Street. I told him that I know I was the one that brought all this forward but it sounded to me like the scouting idea was "us" taking on all the risk and them reaping all the rewards. I suggested that Bill and I go over to see Karl and tell them about the scouting idea. If they are in favor then they needed to share the workload and risk.
Ryan agreed.
Bill and I drove over and saw Karl. We filled him in on the idea to scout for supplies and assist them in getting organized and going in the right direction. We are certainly not living in paradise but better than most. We told Karl we could all work together so it is mutually beneficial. We told him we wanted water from the wells.
Karl thanked us and said he appreciated our willingness to help. He walked across the street to his neighbor Brian's house. They both walked back shortly thereafter. We made introductions, discussed the details of our scouting trip, and headed out. 
I didn't like bringing Karl due to him having kids. Since I didn't know anyone else I really didn't have a choice. On this trip only Bill and I were armed.
The first place we stopped at was a small country/restaurant store just East on Hwy 901. Of course the place had been ransacked but we took a look anyways. It is amazing what people will walk by and not see. We found several large bags of rice and beans. We also found salt, couple small bags of sugar and some flour. I guess the folks that went through the place before looked at a bag of dried beans and had no clue what to do with it. Also picked up a couple bottles of cooking oil. Lastly – they had a bunch of empty food grade buckets that looked like pickles and other things were stored in.
Second place was a small welding/mechanics shop. Not much of value found here other than a portable welder that could come in handy. No food or drinks. Vending machine had been smashed in and everything taken.
The last place we went to was a manufacturing facility on Cel-River Road that had closed down recently. The place had graffiti painted all over the sides of the building. We managed to bust a window and make our way in. Similar to the plastics plant we searched a few weeks ago we found a lot of items of value. More walkie-talkies, batteries, gloves, and some wall mounted first aid cabinets. In the office area there was a fridge which still contained some water, a few soda's, and canned fruit. We also came across some 12 volt car batteries. The maintenance shop had a lot of wire which was needed. Walking through the offices I found something which I saved to give to M. I hope she likes it.
We made our way back to Karl's place and split everything pretty even except for the rice and beans which we gave 75% to Walnut Street. Several folks came out of their homes and were very thankful. I told Karl I would be back tomorrow to get some water and talk.
I think these scouting trips need to be more frequent. Problem is the risk of traveling and eventually we are liable to enter a building that is already occupied.
 – Jed