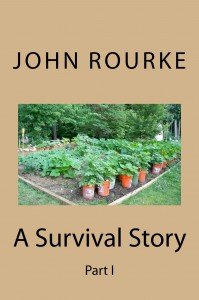 What follows is just one part of an ongoing survival fiction series written by John Rourke and has been published on Amazon. It is being made available here for free. A new entry is published every day. The story is written in a daily journal format.
July 28th   M has a crazy idea.….
M told me an idea today that I thought was crazy.
She asked about Aaron and Caleb moving in with us. I was shocked. Here we are just getting back together and she wants to bring kids into the house. Liable to get pretty crowded around here. She said she had been taking to Carrie,  and Bill apparently is not too happy having Aaron and Amber under the same roof. After all – they are teenagers with racing hormones. M said we have an extra bedroom and Caleb and Aaron could share it. She also said we are likely the best prepared to take on a couple people – due to our food storage.
I told her I would think about it. I need to talk to Bill as well.
The heat is really doing a number on the gardens. With many gardens being planted so late seedlings are not doing well with the intense southern heat. This isn't helping with morale. The fertilizer from the golf course is being used sparingly. The best gardens are the raised beds for the most part. Soil is rich, loose, and the roots can easily crawl out in search of nutrients and moisture.
I charged up my laptop today. I am going to watch a few episodes of Seinfeld. I need a laugh.
 – Jed