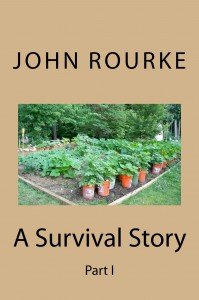 What follows is just one part of an ongoing survival fiction series written by John Rourke and has been published on Amazon. It is being made available here for free. A new entry is published every day. The story is written in a daily journal format.
July 7th   M and I get closer……. 
The community met once again and close to 45 people were there. Things are coming together  – albeit on the slow side. I made more suggestions including forming teams to try to get certain things done and to take advantage of peoples skill sets.  
Right now the teams include: 
Security

Gardening

Water

Medical

Communication

and Kid's

 
The Kid's Team was brought up by Jessie – Mark's wife. She is a teacher and said many of the kids are very sad, withdrawn, and depressed. No kidding. All these kids are used to computers, smartphones, and of course TV – all of which are pretty much gone.  The Kid's Team will get the kids together and play games, color, and try to have fun. What a great idea. 
Ryan briefed everyone on the patrol schedule and noted that all patrol members would have a colored ribbon on their left arm so they could be identified. There were three shifts right now and each shift changed colors daily. 
Everyone wants me to be a member of their team. I decided to assist wherever I could but my concentration was with Security and Gardening. Eric also joined the Gardening Team. 
More later on that stuff. 
M and I are getting closer. We are living under the same roof. We take turns in the solar shower. I know she has caught me staring at her. I can't help it. I think there is something between us and it is not distant memories – something new. I just came out and asked her while we were finishing a couple glasses of wine what was happening between us. She got up out of her chair and kissed me on the cheek, and looked into my eyes, and told me that she has never stopped caring. She then went inside and went to bed. 
The world around me is in complete turmoil and somehow I can't help but feel happiness inside with M with me. Am I selfish? 
Maybe. 
 – Jed