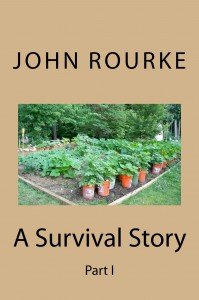 What follows is just one part of an ongoing survival fiction series written by John Rourke and has been published on Amazon. It is being made available here for free. A new entry is published every day. The story is written in a daily journal format.
August 8th   A bartering system comes together…..
I called a neighborhood meeting this morning. Everyone met at 2:00pm at the model house. I filled everyone in on Karl's street including the situation they are in and that they are asking for help – of any kind.
Although I led the meeting which accounted for close to 75% of the residents – I emphasized that whatever decisions made we must not sacrifice the survivability of the community. A few of us mentioned that no doubt Walnut Street needed food more than anything, but they actually had something we could use…..water.
We continue to filter water from the "swamp" near the utility road, but the water has to be boiled and our filter materials are running low. Their well-water could really help us out.
People were supportive of providing assistance but rightly showed concern about donating food that we really couldn't afford to give away. Ryan suggested that we could go on a couple more scouting trips looking for supplies from abandoned homes, businesses, etc. to trade off to Walnut Street and help them out. The decision was made to go on a scouting trip tomorrow to look for supplies and then make a decision as to help Walnut Street or not.
It's a tough situation. Many of us want to help Karl's people out but we have to look out for ourselves first. With that in mind I am going to suggest something a little different before we leave.
 – Jed