In the last week I watched a couple of movies and wanted to pass on some info as I was REALLY impressed with them.
First up is the movie Fireproof. This is a Kirk Cameron movie with a somewhat religious theme but mostly just about marriage. I found it extremely entertaining – as well as educational. I am sure the vast majority of you will admit that when dating your spouse there was excitement in the air and life seemed adventurous. You got married…..and things changed. There are a lot of reasons why this seems to happen to most all marriages – and his movie does a great job highlighting some of the reasons as well as what can be done to make it better.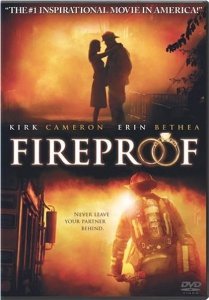 Amazon Fireproof summary:
Lt. Caleb Holt lives by the old firefighter's adage: Never leave your partner behind. Inside burning buildings, it's his natural instinct. In the cooling embers of his marriage, it's another story. After a decade of marriage, Caleb and Catherine Holt have drifted so far apart that they are ready to move on without each other. Yet as they prepare to enter divorce proceedings, Caleb's dad asks his son to try an experiment: The Love Dare. While hoping The Love Dare has nothing to do with his parents' newfound faith, Caleb commits to the challenge. But can he attempt to love his wife while avoiding God's love for him? Will he be able to demonstrate love over and over again to a person that's no longer receptive to his love? Or is this just another marriage destined to go up in smoke?
Second up is Memorial Day. This movie really made me think of SCP Editor-at-Large Harold. The movie is about a Grandfather that tells his selfish grandson old war stories and the grandson begins to understand and appreciate his Grandfather. Through the story you can see how one afternoon's time spent between hems effects both of them for the rest of their lives. What a fantastic movie that helps really puts things in perspective.
Amazon's Memorial Day summary:
When SSgt. Kyle Vogel leaves a handwritten letter on the seat of his car, grabs a pistol and steps into a Minnesota forest, we wonder who he is and what he's about to do. Flash back a few months as Vogel lies wounded in a hospital near Anbar Province, Iraq. The night before he's due to return to combat, his doctor, Lt. Kelly Tripp, presses him on why he's so obsessed with collecting battle souvenirs. Kyle proceeds to tell her what happened on Memorial Day, 1993, when, as a 13-year old boy, he discovered his Grandpa Bud's WWII footlocker. Though reluctant to talk about the war, Bud, who served with the 82nd Airborne, strikes a deal with Kyle: "Pick any three objects, and I'll tell you the story behind each one." As we see Bud's WWII tales from Europe, we also see how Kyle's experiences in Iraq have paralleled them—and how that day on the porch will affect how he ultimately deals with the losses, regrets and moral dilemmas that unite all soldiers across wars and generations.
Why movie recommendations on a preparedness site? Well, sometimes for many of us we experience our own personal SHTF situations due to marriage problems. Fireproof may just be of some help. As far as Memorial Day – I have a feeling it is one of those movies that will mean something different to each one that watches it.
Now…..go pop some pop corn.
Rourke